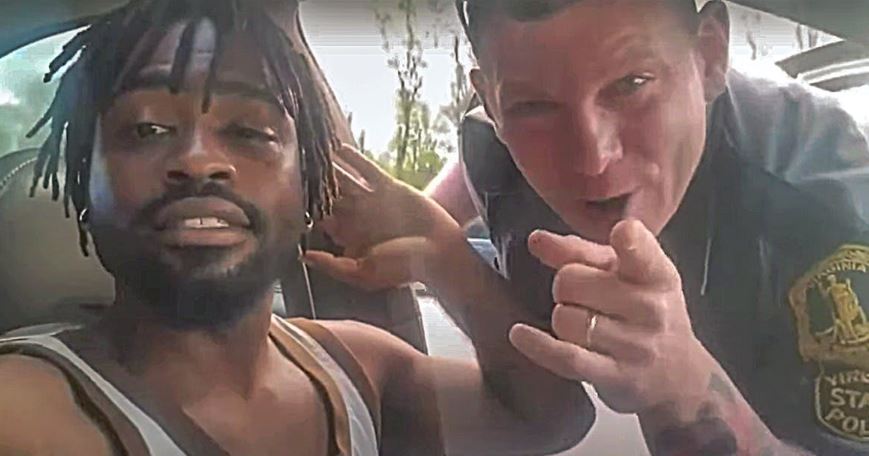 Virginia TROOPER Yanks BLACK Man from Car
FAIRFAX, Va. (AP) — A prosecutor has opted against filing criminal charges against a Virginia State Police trooper who played to the camera as he forcefully removed a Black motorist from his car during a traffic stop.
Fairfax County Commonwealth's Attorney Steve Descano said in a statement that he found Trooper Charles Hewitt's actions during the 2019 traffic stop distasteful but legal.
Hewitt, who is white, tells Thompson that he's about to get "whooped in front of f——- Lord and all creation" if he continues refusing to get out of the car. Hewitt smiles at the camera and says "Watch the show, folks" right before he puts his arms around Thompson's neck and hauls him out of the car as the camera goes blank.
Court records indicate Thompson was found guilty last year of resisting arrest and ordered to pay a $250 fine. The records also show Thompson was arrested last month in a separate incident and is awaiting trial for driving while intoxicated and resisting arrest.
Thompson's lawyer did not immediately return a call seeking comment Monday.
Copyright © 2020 The Associated Press. All rights reserved. This material may not be published, broadcast, written or redistributed.
=
Deuteronomy28.com compels the reader to compare that Thompson kept yelling "MY LIFE IS IN DANGER," as he was wrestled out of the car by the state trooper.
Deuteronomy 28:66 says:
And thy life shall hang in doubt before thee; and thou shalt fear day and night, and shalt have none assurance of thy life:
This is the plight and life of the black, latino, and native Indian man in America; his life hangs in doubt, especially (not even), but especially when confronted by police officers who are supposed to serve and protect!